International employees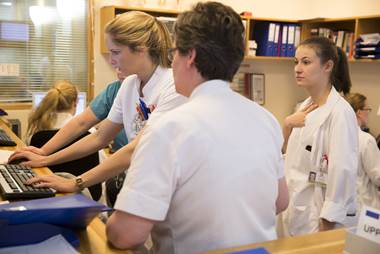 At Landspitali we have international employees from from 31 countries. Our international employees work in all division and in a wide variety of jobs. Around 40% are professionals, mostly health care professionals and most of those are Nurses and Nurse Associates. Around 65% of our employees with a foreign nationality are from Europe. 33% come from Poland, 11% from the Filippines. Very few come from Africa and the Americas.
This website is intended for our newly recruited international employees to assist them as they integrate into their new job and society. It provides general information about the hospital and basic information about living and working in Iceland.
Information for international candidates for employment
Job vacancies are advertised in the section
"Laus storf"
on the hospital webpage. The application system is in Icelandic only but for international applicants please send your application with relevant information at the email:
job@landspitali.is
and put in subject what job your are applying for.
Applicants are preferred but not required to speak and understand Icelandic.
Foreign employees are invited to contact Human Resources, Eiriksgata 5, Hringbraut area. phone 5431330.

At the hospital there is a very acitve Employees' Association (Starfsmannafélag) that organises various events, trips in the summer, sporting and gymnastics. They also own summer houses in various places in Iceland. Their services is either free of charge or moderately charged. Events are advertised at the front page of the hospital inner website.
If you become a full member by paying additional monthly charges, you will enjoy more services, special offers and better prices for the summer houses. At the front page of the hospital inner website, events are advertised.
You find the association (in Icelandic only) at the internal website of the Human Resources. Gréta Sigurðardóttir is the contact person for information and bookings (for example trips and summer houses): email: greta@landspitali.is, phone 5431355. She is located at Eiriksgata 5, Hringbraut area,1st floor.
You will "receive" your payslip (launaseðill) into your private section of the "Oracle / Vinnustund" electronic human resource system that you can access from all hospital computers through your personal code number. It is also availble through electronic bank accounts. It is only in Icelandic but a translation and explanation how to read it has been made by the Icelandic Nurses´ Association. As it was done for nurses it focuses on issues important to their wage agreement but most aspects are shared by all employees and labour unions. It is worth it to have a look at the document; "How to read the salary statement"
Information about courses / workshops / seminars held at the hospital is in various places. A lot of it you find through the hospital Syllabus (Námskrá) that you can access through a large icon on the hospital inner website. Registration is at the same place. An approval of your manager is needed if the course is during working hours. A lot of these courses are also advertised on the front page a few days/a week before they take place ("Viðburðir"). There you will find the weekly sessions of the Nursing and the Medical Councils advertised. The sessions are in Icelandic and as such are a good forum to meet colleagues and practice your Icelandic. Regular training programmes in both clinical and support divisions that target issues specifically relevant for the respective division are usually not advertised as they are only for that unit. Guest speakers are advertised on the hospital website "Fréttir" (news).

Continuing education in English outside the hospital
We advise you to explore the English pages of the University of Iceland as well as their Institution for Continuing Education, and the websites of the University of Reykjavík, Unviversity of Akureyri and University of Bifröst. These universities run health care programms on graduate and post graduate levels where some of the courses are taught in English as well as having foreign guest speakers. The Faculty of Nursing is located on the premises of Landspitali Hringbraut area in the same building as the Landspitali library. In addition, some of the labour unions have courses so checking their websites from time to time could be a good idea.
Landspitali library is
located at the Eirberg building in the Hringbraut central area. Eirberg also houses the University of Iceland, Faculty of Nursing. Email: bokasafn@landspitali.is, phone 5431450. A part of the library website is in
English
.
The electronic
databases (
Gagnasafn
) and
electronic journals
(rafræn tímarit) are accessible from all computers at the hospital. The library website is not in English but once you have entered the databases
you are in an English speaking environment. The hospital has access to a large number of full text academic articles in electronic journals. Hard copies of some journals are also available at the library. In the list of databases you also find gateways to clinical guidelines, evidence based and best practice resources. It is also useful to search the database
Hvar.is
that is a database with free of charge full text material and is accessible from all computers in Iceland but the hospital databases are only accessble from the hospital.
Courses
The are courses in the use of the databases advertised at the hospital website. English speaking courses are organised on demand only: please contact the library. The staff is very helpful and will teach you how to use the library on a one/one basis. It might be a good idea to arrange a guided tour - perhaps you can collect a few colleagues and contact the library for an appointment?


Gegnir
The joint electronic library database (books and Icelandic journals, dissertations) for the main libraries in Iceland is Gegnir.